I took my first 4 days from Dec. 28-31, meaning i had Dec 28-Jan 2 because of the weekend. Unfortunately, I couldn't have that Monday off since the kids were still in school. Shelley and I shipped off to Thailand on December 28 and arrived at the Bangkok airport around midnight.
Goodbye snow!!!
DAY 1: Bangkok
We arrived at our cute little hostel, where the front desk staff was patiently awaiting our arrival. Oddly enough, our roommates ended up being English teachers from Korea and one of them went to school at UCSB... small world.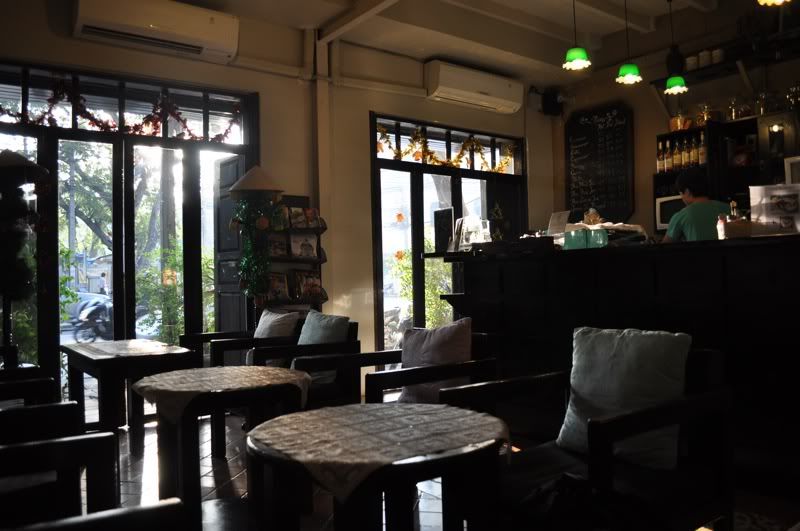 The front of our hostel was a cafe,
equipped with a delicious breakfast and
a friendly staff with plenty of travel tips
We spent the next day in Bangkok during all of the touristy stuff and planning for our next destination. **For the record, it is NOT smart to just "go with the flow" in Thailand (or any other country for that matter) during the
busiest
time of year. I repeat, NOT A GOOD IDEA! More on this later....**
We went to the Golden Mount, Wat Saket, which was pretty close to our hostel. It is a beautiful Buddhist temple built on a hill.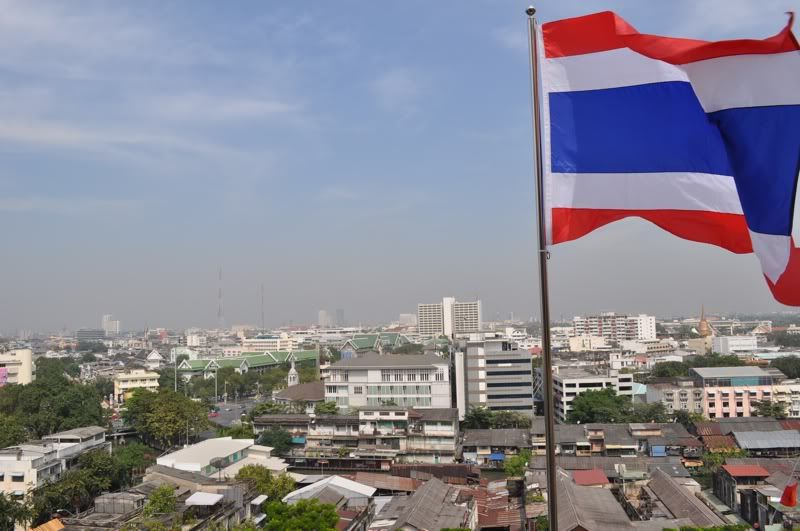 Overlooking Bangkok
Do you follow the sign or the hundreds of shoes sitting in front of it?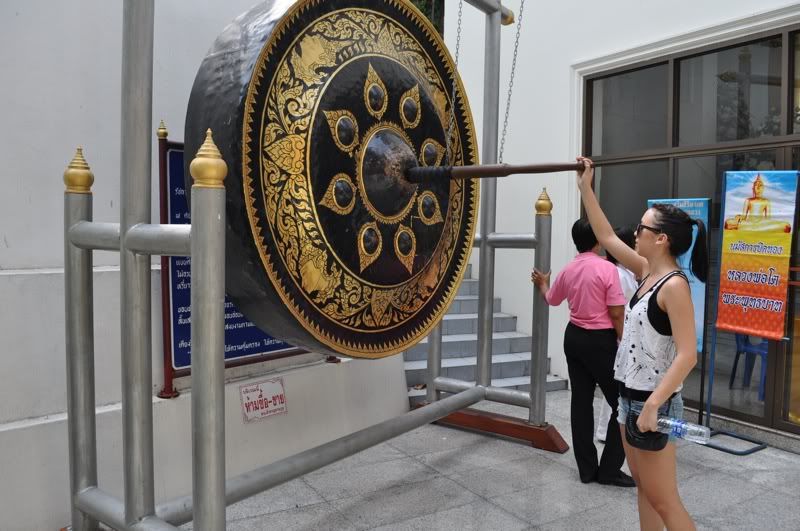 This is probably used for some religious purpose
and I am probably being offensive... sorry Buddha.
Then we started walking through the rest of the city. Unfortunately, we couldn't get into the palace because of some Thai holiday/the new year (or so we were told).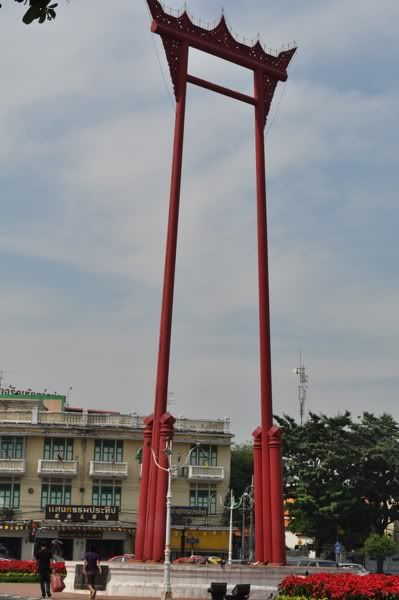 Giant Swing
Another temple with gorgeous
Thai Buddhas filling the four walls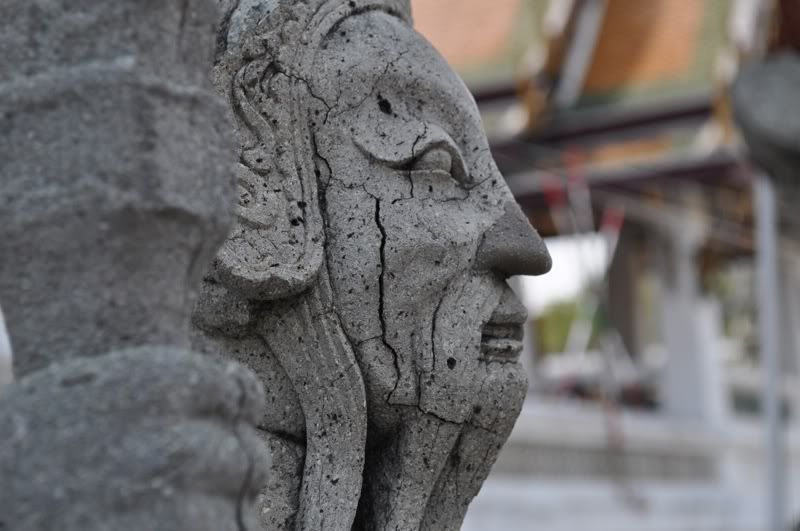 Thail Uncle Phil
(sorry everyone else, family inside joke)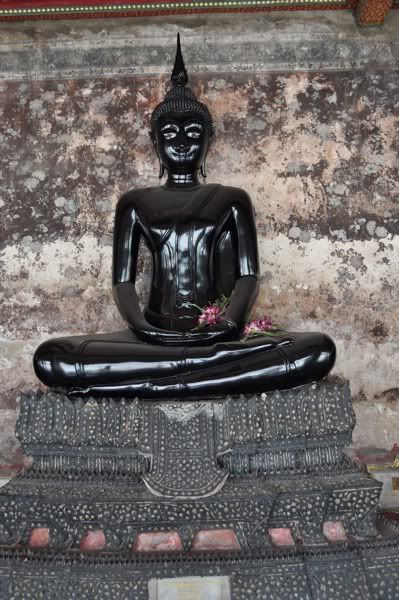 Another beautiful Thai Buddha.
I believe these were all donated by different families.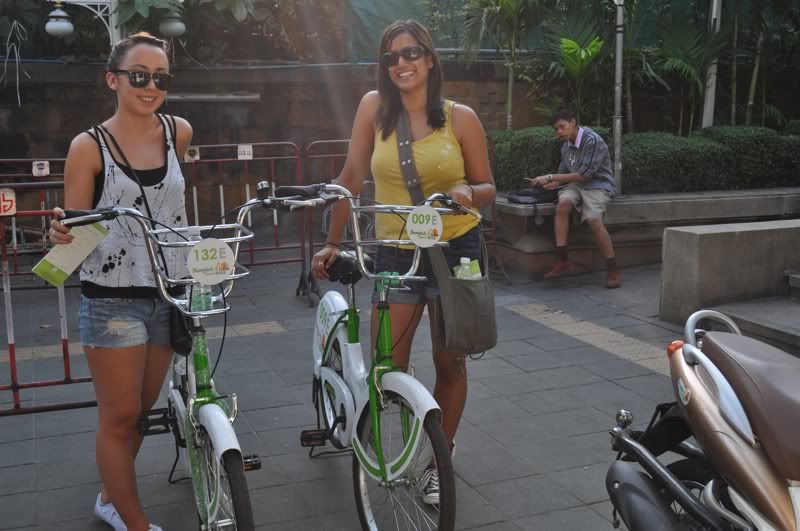 Free bikes rentals for tourists... sweet!
And we ended the long day with Dr. Fish and Thai massages
Favorite mode of transportation: tuk tuks
They try to rip you off like everyone else in Thailand,
but there's something refreshing about the polluted Bangkok air
blowing through your hair at dusk.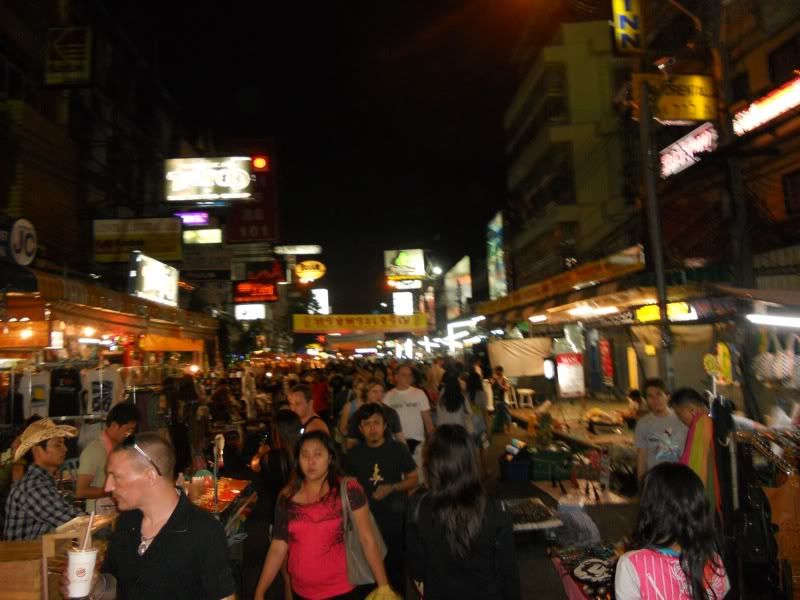 Khao San Road... THE backpacker destination.
Full of bars, restaurants, street vendors, foreigners,
and ping pong shows (if you don't know what that is, look it up).
DAY 2: Bus to Koh Chang
As far as day 2 is concerned, it was a waste. We originally planned to go to Koh Phangan and the surrounding islands (in the South) for the full moon party and to visit my friend, Amber. EPIC FAIL. Trains, busses, and flights are booked months in advance. We still wanted to go to an island, so we decided to head East to the much closer Koh Chang. The easiest way to get there at that point was by bus. The travel agent told us 5 hours in this sketchy, ghetto bus. Not true... we left Bangkok at 9am and didn't arrive to our hotel on Koh Chang until about 8pm. *Do not trust Thai "time estimates"* First, our bus was full of foreigners jammed into every nook and crevice. We sat on the bottom level of the double decker. There were 12 normal seats (which we were lucky to get) and a U-shaped bench. The bench was maybe made for about 4-5 people and at least 8 people were jammed into it.
Half way point break
We then arrived at a place where we were to get our ferry tickets to get to the island and where they were selling all kinds of tour packages. Let us not forget, we went during the busiest time of the year. All of our efforts to get a hotel the night before were in vain and we went to Koh Chang with fingers crossed. One of the tour/ferry ticket seller ladies found "one of the last hotels" for us and we ended up spending way more than we wanted to. On top of that, we were forced to pay for a mandatory New Years Gala dinner (which is pretty much a scam by all hotels during the New Year holiday). Eventually we hopped on an hour long ferry to the island and then got on a truck-like taxi to our hotel. Complete waste of a day and pretty miserable, but these experiences are all part of traveling right??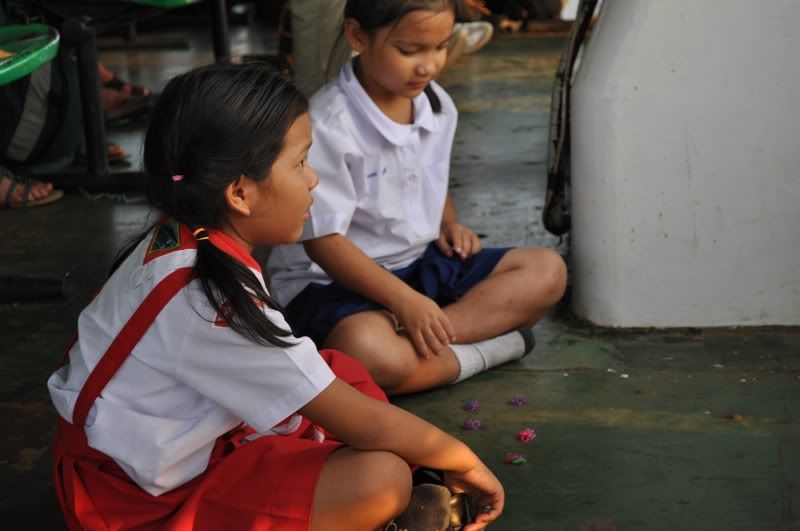 School girls playing a jacks-like game on the ferry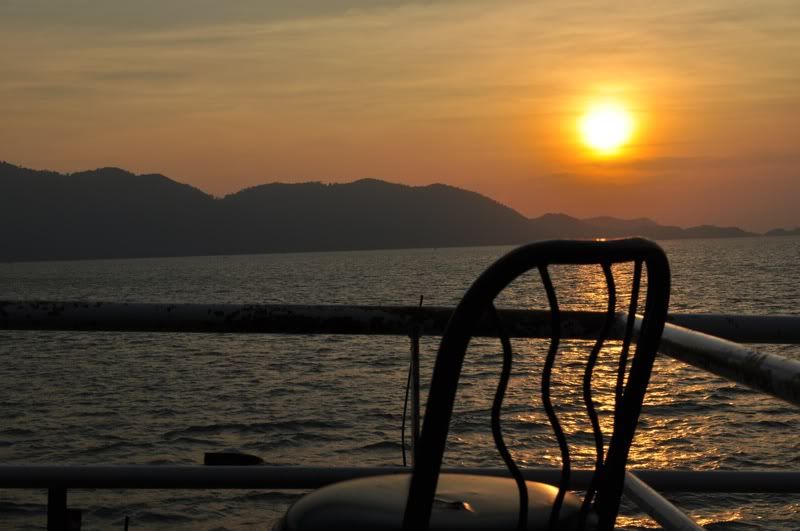 Sunset on the ferry
Lucky for us, all of the tours we wanted to do were booked (elephants, etc) so we were left with an all day snorkeling excursion for the next day. Not horrible in my opinion but not my first choice either.
DAY 3: Koh Chang, New Years Eve
We woke up bright and early for our snorkeling day, with breakfast overlooking the beautiful ocean.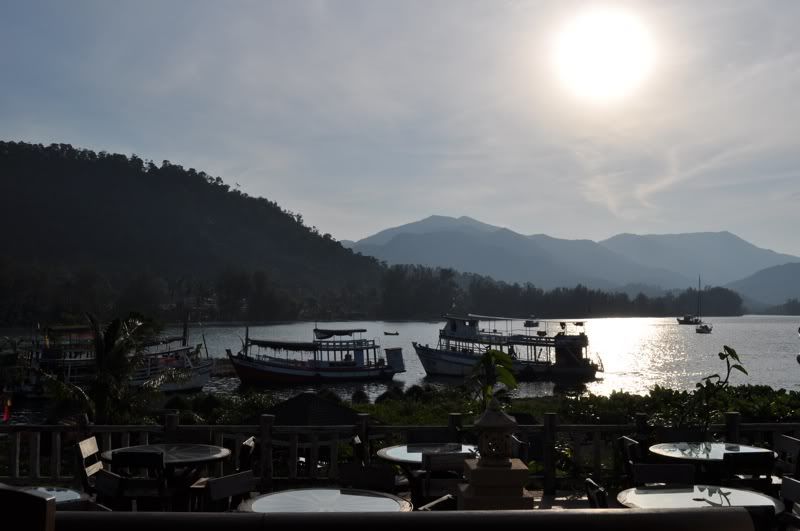 Breakfast at our resort
Snorkeling, like everything else we had done in Thailand, was a cluster-fuck (excuse my language, but it is the most accurate word) of tourists. Huge boat, tons of foreigners, more huge boats like ours, a million people in the water. It was still REALLY nice to be in the warm weather for once and to be able to relax!
Our New Years Eve consisted of our mandatory gala, full of families and couples, and then a little bar hopping. We got to ring in the new year on a beach, listening to a local band, and watching fireworks fly into the sky. Not so shabby....
If you are a fire twirler, please practice.
There were few moments when all 4 guys had their fire going at the same time.
The wands were flying into the plants and sand all around them.
Kind of funny/ridiculous if you think about it.... fumble, fumble, fumble...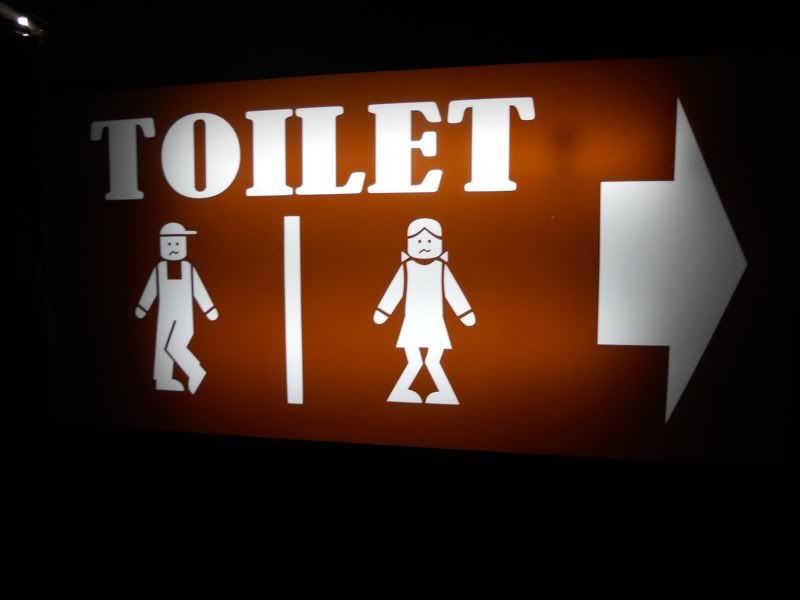 Bathroom at a bar we were at haha
The timing of the next events had to work out perfectly or else we wouldn't have been able to make it to work on Monday. Think: Taxi, ferry, bus, taxi, flight, bus.
The next morning, we missed our original ferry (who knew it would take so long to get a taxi in the morning). We luckily caught the next one and then almost missed our bus... and luckily again, we weren't the only ones. The bus had to turn around to come pick us up. Being the last ones on the bus meant the worst seats in the back of the bus. Our bus this time had about 2 hours of air-conditioning and then it broke (of course it only broke in the back of the bus.. go figure). Not only did it break, hot air was being pushed out of the aircon unit. It was hotter in the back of the bus than outside, which was pretty damn hot. 7 hours and buckets of sweat later, we finally made it back to Bangkok where we got a few hours of sleep and then it was off to the airport to make it home. Our trip consisted of mostly seeing the transportation side of Thailand, but at least we got a few days of relaxation. It is definitely on my list of places to go back to visit and we learned some very valuable lessons about traveling, to say the least!